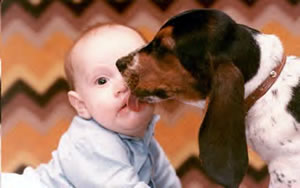 So far......

---
From Stew
Hmmm! not sure about Mums new warm baby wipes!

---
From Elaine
I suppose one slobber chops is enough for any family!

---
From Sheila
Not another wash Ihave only just had one!

---
From Paul
So who left the superglue lying around then?

---
From John J Black
A damp nose is fine but I am way to young for the tongue!

---
From Craig Mullins
Hmm, this Winalot doesn't taste cooked properly.

---
From Dave
Mummy, i think Beethoven want's his dinner.

---
From Trev
: "An enquiry will be set up in the wake of these unusual Siamese Twins"
Aspokesman for the Human Fertilasation and Embryology Authority said today...